VIP System
1. How to obtain VIP Status
Players can gain VIP status and VIP EXP via topping up. VIP EXP increases VIP levels.
2. VIP functions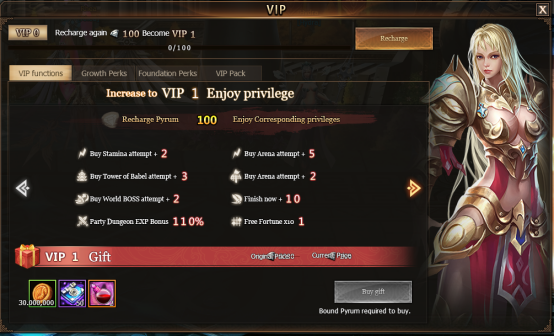 3. VIP Pack

Ø
Each VIP level comes with a one-time pack.
Ø
VIP players get daily and weekly packs, with rewards varying depending on level.
4. Foundation Perks

Ø
VIP perks are divided into Foundation and Growth.
Ø
Foundation Perks become available as soon as the corresponding levels are reached.
5. Growth Perks
Ø Growth Perks are divided into different systems, which each having a level that can be gained via spending Gold.
Ø Growth Perks are activated at certain progression points, and each system has multiple Growth Perks.
Ø Leveling up the perks in each system will increase their effects.
Ø Growth Perks are also limited by VIP levels.